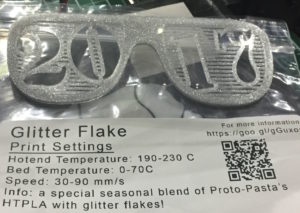 As we prepare to toast friends and family to a happy, healthy, and prosperous New Year, we ready our fun and funky 3D Printed Glasses!
This year, we printed with Proto-Pasta GlitterFlake filament. This HTPLA printed really nicely. It was a sample that came in our monthly subscription box from MakerBox! We have some other samples from Proto-Pasta, and will give them a go as we find time in the beginning of 2017. One was a Red HTPLA and another was a blue HTPLA. Maybe we'll get the Raise3D N1 running a dual-extruder print to play with them!!
Even though there's only one more day to 2016, it isn't too late to print your own 2017 glasses! Just head over to Thingiverse and print Thing ID 1985430!
By way of comparison, I printed these in MatterHackers' Silver PLA as well. I love the way they look! Their PLA filaments are reasonably priced and easy to print!
What are you 3d Printing to ring in the New Year? If you aren't using a 3D Printer, what would you print if you could? Leave a comment below and let us know!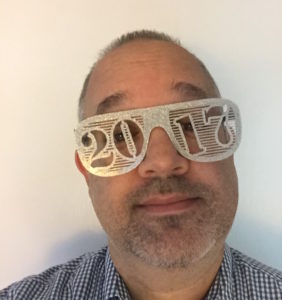 Everyone at JetPrints wishes you a very happy, healthy, and prosperous New Year! Cheers!