Description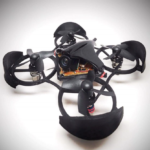 Nichy Neato took the Tiny Whoop craze and upped its game with his new NeatoWhoop 3d Printed Frame!
From the mastermind designer of the Neato Frames empire, Nich Zuhoski has made the files available to anyone with a 3D printer. Just check out the Neato Frames Facebook Group, and check under Files.  If you don't have a 3D Printer, then we have you covered!
Printed in strong PETG, these frames weigh in at 5.1 grams, a little heavier than the stock Inductrix frames at 3.2 grams. However, these frames are much more durable, come in awesome colors, and have the sick NEATO "N" Branding on them.
Builds can be seen on the Facebook group, but usually include the BeeBrain FC, 6mm Insane Motors, and the standard Tiny Whopp cameras. Canopies are not yet available from  JetPrints, but we're working on them!
Think 5.1 grams is too heavy for a frame? Then check out Neato Frames CEO Justin Skinner ripping through the house on the original NeatoWhoop frame that was 8G!!!
Flying FPV Quadcopters is all the rage. The Drone Racing League on ESPN shows the speed and agility the big quads can have, especially in the hands of skilled pilots. However, you don't need a stadium with fancy Neon gates to rip through the air! You could be flying in the comfort of your own home. Enter the Tiny Whoop world, but with the sick Neato Whoop frame!